For the world energy issues of now and the future
Rotterdam, the Netherlands will host the 2025 World Energy Congress
The Global World Energy Congress 2025 (WEC2025) will be organised in Rotterdam. WEC Netherlands was announced the winner of a global bid process today by the central World Energy Council in London. The world's largest energy event will take place September 8-11 2025 with Rotterdam Ahoy Convention Centre as main venue. WEC2025 will bring an estimated 4,000 delegates plus some 20.000 visitors for the exhibition and a global ministerial representation from all over the world to the Netherlands.
The Dutch bid focussed on why the Netherlands and proposed host city Rotterdam are the right choice as hosts for the 2025 congress midway between 2020 and the Paris and ambitious national goals on Energy Transition and carbon reduction by 2030. Rotterdam is at the centre of Europe's Energy Transition, partly due to its world-leading smart port and the connected chemical clusters in North West Europe which are in full transition by 2025 with many concrete projects to show case. In addition, Rotterdam is taking a frontrunner role with its goal of becoming a climate neutral city by 2050. It is an innovating city and a real life testing ground for important transitions and it offers the right geographic and logistical facilities to organise an event of this scale.
Jeroen van Hoof (Chair of WEC Netherlands) commented; "I am extremely proud that we will have the opportunity to organise the most green and inclusive WEC conference ever. Our society combines high climate ambitions with a massive challenge given its current energy intensity and carbon footprint. The Energy Transition in our region will provide an excellent opportunity to inspire the global community and deliver new, post Covid-19, green economic value and work. The support we received from the Dutch government, our partners from industry, the city and port of Rotterdam are only a first signal of our commitment to our collective opportunity".
Eveline van der Pluijm (Manager Convention Bureau & Tourism Board at Rotterdam Partners):
"We are delighted and proud to be able to facilitate WEC2025 in Rotterdam. The conference is a perfect match for the city in terms of content and it contributes to the energy transition of Rotterdam. The brand new Rotterdam Ahoy Convention Centre with 35 additional spaces is also the ideal location for this congress. We look forward welcoming 4,000 participants from over 150 countries worldwide."
'Sustainable Energy for all'
Theme for the Dutch 2025 edition of the congress will be 'Sustainable Energy for all'. Depending on innovations in the post Covid-19 events world, the Dutch bid includes options for a hybrid or online congress and all the elements to deliver a state of the art conference. Think about combining physical and virtual elements and the possibilities of new technologies.
About the World Energy Congress
The World Energy Congress is the flagship platform of the World Energy Council, reaching across the public, private and civil sectors to connect and inspire leaders and practitioners from the energy+ value chain. Held every three years since 1924, the Congress is a unique space for the global energy community to catalyse new collaborations and forge new pathways in the energy transition.
Collaborating partners
The Dutch bid for WEC2025 was put forward as a collective effort, issued by the World Energy Council the Netherlands, partnering with a.o. the Dutch ministry of Economic Affairs and Climate policy, the City and Port of Rotterdam and Rotterdam Partners, and has the support of WEC Netherlands members (DNV GL, Energie Beheer Nederland, Groningen Seaports, New Energy Coalition, Nouryon, PWC, Rabobank, Shell, Siemens, TNO, Vattenfall and Vopak).
 Contactpersons
Jeroen van Hoof – WEC chair Netherlands
+31 651 609 178 – jeroen.van.hoof@worldenergycouncil.nl
Aad Groenenboom – Secretary WEC Netherlands
+316 5310 6348 – aad.groenenboom@worldenergycouncil.nl
Launch of the latest WEC report:
Phasing out Carbon - How to decarbonise North-Western Europe's energy mix in the run-up to 2050
World Energy Council the Netherlands is excited to launch a new study which addresses the challenges that arise around the energy system transformation required to achieve the goals set by the European Commision and the EU Green Deal. This latest report also looks at the opportunities associated with fulfilling North-West Europe's (NWE) clear ambition to decarbonise its economy by 2050.
In 2019, the WEC already reported that North-Western Europe will have to rely fully on hydrogen if we want to achieve the European climate targets in thirty years' time. This new report contains a detailed scenario for getting there. However, a maximum will need to be done across the board in order to achieve the targets. 
It will be possible to achieve sufficient decarbonisation of the economy in North-Western Europe, while maintaining industrial production and providing safe and affordable energy. This will require a major effort to reduce gas consumption and the generation of green electricity.
 The scenario contains three main pillars:
Efficiency improvements in and further electrification of energy consumption.
Because electrical processes have less heat loss, electrification of the economy provides greater efficiency in a simple way. Saving energy should be done through transport and agriculture. The broader industry can't actually produce much more economically. In addition, the use of gas needs to be decreased.
Further generation of green energy.
The North Sea plays a crucial role in the further transition to green energy, especially by building more wind farms the transition to green energy can be made.
Production and import of carbon-free substances for fuel and feedstock purposes.
While electricity is becoming greener, decarbonising fuels has not yet really taken off. This is partly due to the high demand from industry for feedstock and electricity. In order to meet the Paris targets, we will have to start mixing biogas and hydrogen in natural gas supply immediately. Building up a considerable quantity of hydrogen is particularly important here.
 NWE is very well positioned to become a leader in the field of energy production and industrial use based on carbon-free fuels because of the combination of huge offshore wind potential and the availability of gas infrastructure on the North Sea.
Consumption and production of decarbonised fuels needs to be stimulated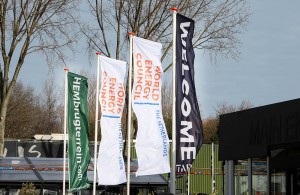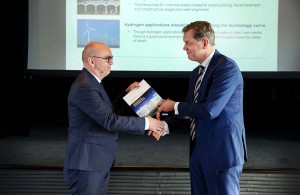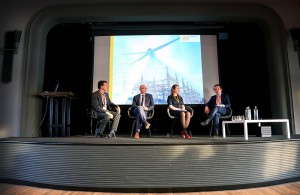 Phasing out carbon – how to decarbonise North-Western Europe's energy mix in the run up to 2050 published 5 March 2020 by the World Energy Council Netherlands.
The share of energy provided in the form of fuels – currently 70% of all energy – so far remains resolutely carbon-heavy. Although the share of fuels in the energy mix will fall over time, it is expected to remain over 50% in 2050. The enormous acceleration of the decarbonisation of fuels needed to meet the Paris Agreement while keeping a substantial heavy-industrial sector in North-Western Europe objectives requires an immediate start to mixing biogas and hydrogen into the natural gas supply, for instance, for a rapid first-stage greening of feedstock. The ultimate demand for carbon-free fuels alone poses a major argument for the build-up of substantial hydrogen and power-to-gas (PtG) capacities
.
Presentations at the WEC conference 2020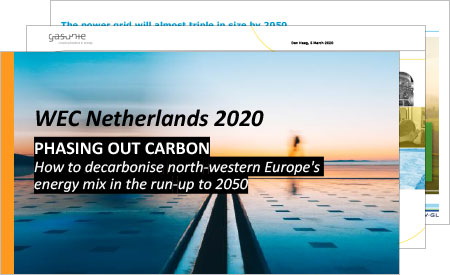 Plenary presentation with keynote speech
Jan Willem Velthuijsen (PwC), Prajeev Rasiah (DNV GL) and Hans Coenen (Gasunie)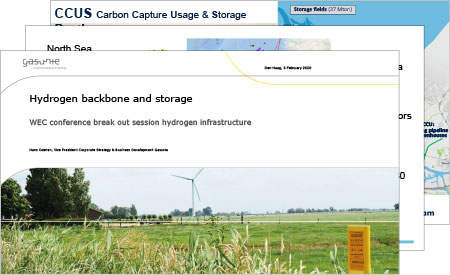 Infrastructure
Hosted by René Peters (TNO), Ruud Melieste (Havenbedrijf Rotterdam) and Hans Coenen (NV Nederlandse Gasunie)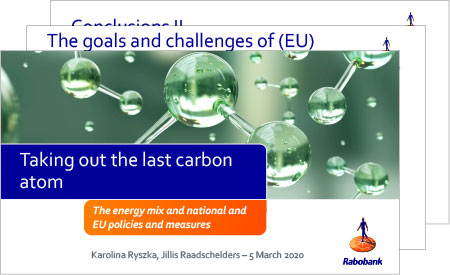 Regulation/Regislation
Hosted by Karolina Ryszka (Rabobank) and Jillis Raadschelders (DNV GL)
Strategy
Hosted by Catrinus Jepma (New Energy Coalition), Ewald Breunesse (Shell) and Marcel vd Kar (Vopak)
For the world energy issues of now and the future
The World Energy Council (WEC), founded in 1924 in London, is an international platform that broadly addresses the world-energy-issues today and in the future.
The current and more specifically future global energy issues require extensive and in-depth studies to ensure that the expected future huge increase in energy demand can be met. This should be done in a sustainable but also affordable way.
Read more