For the world energy issues of now and the future
Rotterdam, The Netherlands to host 26th World Energy Congress in December 2023, themed "Redesigning Energy for People and Planet"
World Energy Congress, Rotterdam, brought forward from 2025

20 September 2022 – Rotterdam in The Netherlands is to host the World Energy Council 's 26 th World
Energy Congress from 4-7 December 2023.
Themed 'Redesigning Energy for People and Planet', the four-day gathering marks the Council's centenary in world energy and will explore the role of connected energy societies in driving forward global energy transitions in a less predictable, more turbulent and faster shifting world context.
Energy transitions have always triggered societal disruption and current transitions are no exception. With the World Energy Council's Humanising Energy vision embedded at its core, the event aims to put people, their evolving needs, and the planet at the heart of global energy transitions.
The 26 th World Energy Congress has been brought forward from 2025 due to the pressing need to convene energy leaders to progress new possibilities linked to affordability, sustainability and energy security, together with the cancellation of the 25 th Congress earlier this year.
Since the first Congress in 1924, the World Energy Congress has led the global energy agenda and operated as a truly unique community through different eras of energy transition. The Congress is attended by heads of state, ministers, CEOs, and wider energy society interests, including energy users, cities and communities.
Dr Angela Wilkinson, Secretary General and CEO, World Energy Council, said:
"The world is in crisis, and this is a significant moment in the history of world energy cooperation. I would like to thank the Dutch member committee of the World Energy Council, the Dutch government and the City of Rotterdam, for their flexibility and desire to accelerate timelines."
"Our world energy community is convening in person, in Rotterdam, to forge a new way forward – the challenge is to create a better system which anticipates new uses and users and involves more diverse energy interests. Accelerating clean and just energy transitions in all world regions is essential, and best progressed with energy trilemma solutions that empower people and communities to better manage the energy in their lives."
His Excellency Rob Jetten, Minister for Climate and Energy Policy, The Netherlands, said:
"The Netherlands has big ambitions when it comes to sustainable energy and climate, and we seek to play our role across the globe. We live in turbulent energy times, and the importance of gathering world energy leaders together under the auspices of a World Energy Congress could not be greater. With a hundred-year heritage and successful track record, we are delighted to be hosting the World Energy Council during its centenary year."
Jeroen van Hoof, Chair of the World Energy Council, The Netherlands, and Chair of the World Energy Congress Rotterdam Organising Committee, said:
"We were delighted to be selected to host the 26th World Energy Congress by the Council's worldwide membership and, bearing in mind the urgency to come together in the midst of these turbulent times, we have accelerated our plans to enable a Rotterdam Congress in December 2023. As a worldwide centre for global trade and energy, and with the great initiatives we are keen to share with the world, Rotterdam offers a perfect setting to discuss the reshaping of future energy systems for both people and planet."
World Energy Congress 2023 will be held at the Rotterdam Ahoy , an event base for international professionals, politicians and artists.
About the World Energy Congress
The global flagship platform of the World Energy Council, the World Energy Congress reaches across the public, private and civic sectors to connect and inspire leaders and practitioners from within and beyond the traditional energy value chain. Hosted in cities across the world since 1924, the Congress is a unique space for the world energy community to address challenges of energy for people and planet, catalyse new co-operations and build multiple better pathways for global energy transitions. With around 7,000 delegates and 100 exhibitors across 30,000 sqm. of exhibition space attracting 18,000 attendees over four days, the Congress connects and inspires experienced and future energy leaders and practitioners from around the world. Ministers, C-suite executives, NGOs, experts and academia, entrepreneurs and young energy leaders – the Congress hosts the full spectrum of the energy sector and its value chain. The 26 th World Energy Congress will soon be open to book participation as a delegate, exhibitor or exhibition visitor. You may also register your interest to be a sponsor or a media partner. Further information at World Energy Congress and @WECongress.
Virtual WEC conference - 20 May 2021
Recording of the World Energy Council NL (WEC) virtual event 2021. PwC's Chief Economist Jan Willem Velthuijsen shares the findings and analyses of this year's WEC report 'About black swans and green futures', which explores the impact of Covid -19 on the economy, energy use and CO2 emissions. Shell's Chief Climate Change Advisor David Hone talks about three energy scenarios. Moderator Sonja Renssen leads two expert panel discussions, one from an economic perspective, the other from a technology perspective.
About black swans and green futures
Decarbonising north west Europe after Covid-19
Published 20 May 2021 by the World Energy Council Netherlands
Corona no doubt was the dominant driver of events in 2020, but in its shadow the year has seen a number of other significant developments that are crucial for the achievability of NW Europe's Net Zero ambitions. China, USA and EU have each announced, introduced, or intensified a grand Energy Deal. And ofcourse Great Britain – a large and energy-relevant member – has left the Union.
All these Black Swan events have potentially kicked the development trajectories of NW Europe into new orbits. It is therefore clear that there is ample scope to rethink the Phasing Out Carbon scenario against these radically changed perspectives and potential new trends.
The WEC 2021 report explores the impact of Covid-19 on the economy, energy use and CO2 emissions. Two possible post-Covid growth scenarios have been differentiated: modest-growth and high-growth. The report looks at different drivers impacting the scenarios and with that the achievability of the 2050 Paris goals.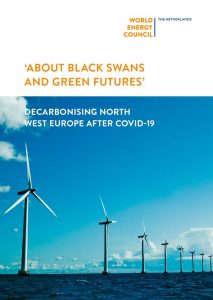 Consumption and production of decarbonised fuels needs to be stimulated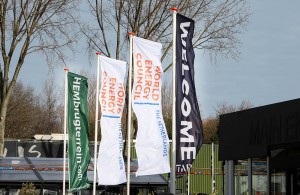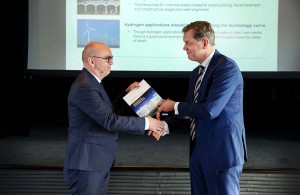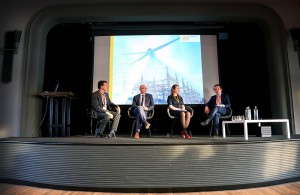 Phasing out carbon – how to decarbonise North-Western Europe's energy mix in the run up to 2050 published 5 March 2020 by the World Energy Council Netherlands.
The share of energy provided in the form of fuels – currently 70% of all energy – so far remains resolutely carbon-heavy. Although the share of fuels in the energy mix will fall over time, it is expected to remain over 50% in 2050. The enormous acceleration of the decarbonisation of fuels needed to meet the Paris Agreement while keeping a substantial heavy-industrial sector in North-Western Europe objectives requires an immediate start to mixing biogas and hydrogen into the natural gas supply, for instance, for a rapid first-stage greening of feedstock. The ultimate demand for carbon-free fuels alone poses a major argument for the build-up of substantial hydrogen and power-to-gas (PtG) capacities
.
Presentations at the WEC conference 2020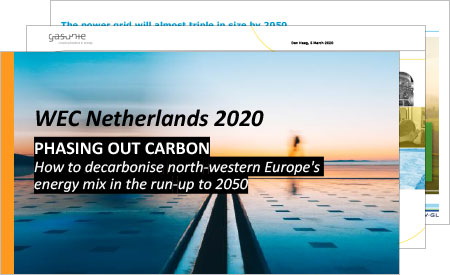 Plenary presentation with keynote speech
Jan Willem Velthuijsen (PwC), Prajeev Rasiah (DNV GL) and Hans Coenen (Gasunie)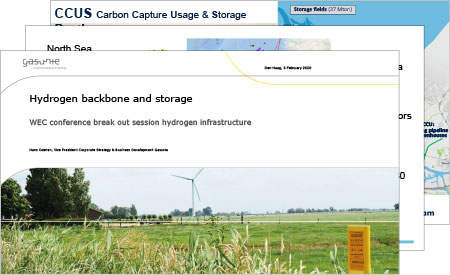 Infrastructure
Hosted by René Peters (TNO), Ruud Melieste (Havenbedrijf Rotterdam) and Hans Coenen (NV Nederlandse Gasunie)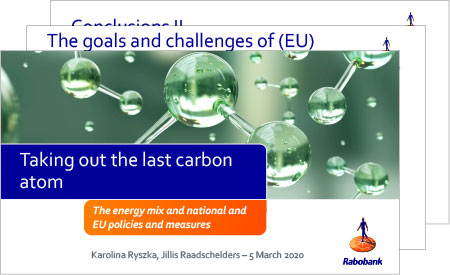 Regulation/Regislation
Hosted by Karolina Ryszka (Rabobank) and Jillis Raadschelders (DNV GL)
Strategy
Hosted by Catrinus Jepma (New Energy Coalition), Ewald Breunesse (Shell) and Marcel vd Kar (Vopak)
For the world energy issues of now and the future
The World Energy Council (WEC), founded in 1924 in London, is an international platform that broadly addresses the world-energy-issues today and in the future.
The current and more specifically future global energy issues require extensive and in-depth studies to ensure that the expected future huge increase in energy demand can be met. This should be done in a sustainable but also affordable way.
Read more